Rytr Review – A.I. Writer Content Generator and Writing Assistant
The Rytr A.I. Writer Content Generator and Writing Assistant makes content creation a breeze and solves writers block.
I love this tool. It's affordable, easy to use and it's helped me with my content creation. I've been blogging for years and it's hard to come up with new ideas for articles. I've tried other tools like this but they're very complicated or expensive or have annoying interfaces. This one is very simple and I like that I can use it on my phone.
Example blog post creation using Rytr
In our review video, we show you how easy it was to generate a great blog post – even on a very niche topic!
One of the biggest struggles for many bloggers is creating well-written blog posts. For some, this is simply a matter of skill; for others, the problem is finding the time to create new content. What if you could get new content on your blog without actually writing it yourself? Rytr is the easiest way to generate unique content for your blog, and we've made it even simpler — just add a few Rytr buttons to your blog and we'll format it into a beautifully-written and original blog post. Why would you ever write another blog post again? Rytr will help you get more readers and more shares for your blog. With Rytr, you can create content that will get you more traffic, more shares, and more money.
Rytr A.I. Pricing
Rytr is a subcription service, but at the moment it is possible to get a lifetime package at AppSumo for $49:
Can A.I. solve your content writing problems?
When you are tasked with creating content for your project, you might find yourself stuck in a rut. You are most likely faced with a blank computer screen or a blinking cursor. It can be very difficult to start writing something. This is where Rytr can help. Rytr is an artificial intelligence (A.I.) based content generator and writer assistant. It puts your words on paper, so you can focus on the important stuff. Rytr does not replace writers, but it can certainly help them with the process of writing by providing them with an outline, research and even voice recognition. Rytr can also help you with your writer's block.
How does Rytr A.I. work?
Rytr A.I. Writer Content Generator and Writing Assistant is a text generation platform that uses GTP-3 Artificial Intelligence and Natural Language Processing to create custom content. Their Proprietary algorithm analyzes input data and transforms it into a narrative that a client can use to make decisions. The narrative generators are used by businesses of all sizes all around the world to make better content. They are able to produce high-quality content because they leverage the immense power of artificial intelligence. Rytr's algorithms are able to learn from data of all kinds, including unstructured text, images, and more. The algorithms learn patterns and the more data used the better the algorithm becomes at finding patterns. This technology is particularly useful for highly-technical industries like healthcare, energy, and finance. Rytr provides the tools you need to make more quality content in a short timeframe.
What does Rytr A.I. mean for brands?
Many marketers face the same problem: how to publish high-quality, engaging content that attracts and retains the interest of today's audiences. In fact, 80% of marketers surveyed said that producing engaging content was a top challenge, according to a recent report from the Content Marketing Institute and Marketing Profs. The report also showed that 70% of the marketers surveyed felt they needed to produce more content than they did the previous year. The Rytr A.I. writer content generator and writing assistant is a new and exciting way for brands and companies to give their audiences access to customized and relevant content that is not only engaging, but also useful. With Rytr, you can take your brand's blog, website, and social media to the next level by providing your audience with unique and relevant content that is unique to them.
Conclusion: If you're suffering from writers block, the Rytr A.I. writer content generator and writing assistant can be your saviour.
Rytr Review Summary
Rytr Review – A.I. Writer Content Generator and Writing Assistant | IdeaSpot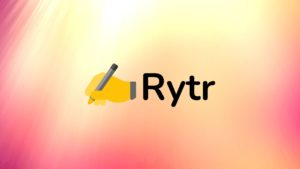 Rytr Review Summary
Price: 39
Price Currency: USD